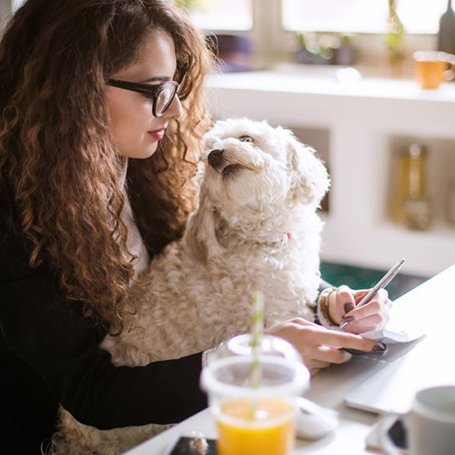 Welcome to Kimberling Animal Hospital! We can't wait to meet you and your pets. Here's what you can expect when your cat or dog comes to our animal hospital for a wellness examination.
When you enter Kimberling Animal Hospital, you'll be greeted by one of our friendly client service representatives, Gina or Sara. First, they will confirm the reason you made the appointment so your pet's veterinarian knows your concerns and goals for the appointment right away. Then, they'll verify your insurance information if you have pet insurance. Finally, they'll update your information, like your address and phone numbers, so our files are all up to date.
Once it's time for your pet's appointment, you'll meet one of our skilled technicians or veterinary assistants, either Emma or Amy, who will escort you and your pet to an exam room. There, they will weigh your pet and update wellness information. They'll check on your pet's diet, flea and tick prevention and heartworm prevention, and they'll notify you about any vaccinations that need to be updated.
Our technicians and veterinary assistants will also check your pet's temperature, pulse and respiration and will evaluate your pet's teeth to look for dental plaque. They will also check your pet for any masses, lumps or bumps and will make notes of any concerns for the veterinarian to look at more thoroughly during the full examination.
During the examination Dr. Ross Henry or Dr. Karen VanAnrooy will evaluate your pet's entire body, from nose to tail. They will discuss any abnormal findings with you and will address any concerns you have about your pet's health. With you, our doctors will develop a treatment plan and will establish expectations for your pet's health over the coming year.
Once your pet's examination is complete, you'll check back in with Gina or Sara up front and schedule follow-up visits or future wellness examinations. We recommend bringing pets in twice a year: once for an annual wellness exam with one of our doctors, and again six months later for a complimentary check-up with one of our technicians.
Our doctor's schedules tend to fill up quickly, so we recommend booking wellness exams at Kimberling Animal Hospital well in advance when you can.
We can't wait to meet you and your pets! To schedule an appointment at Kimberling Animal Hospital, give us a call at 417-739-4090.